Kada se igra učita, pojaviti će se donji prozor. On Vas pita koliko memorije da koristi za spremanje igrice. Kliknite što više, to bolje i CLOSE.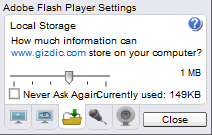 Shopping carstvo 2 / Shop Empire 2
Ovo je nastavak istoimene igrice. I sada gradite shopping (šoping) centre po svijetu. Krećete u Indiji i idete dalje. Trebate imati sve što moderni shopping centar ima. Dućane, kafiće, ljekarne, liftove, podzemnu garažu, osoblje koje na sve to pazi,... Igra je zabavna i za one strpljive je. U sredini dna ekrana piše Vam što trebate učiniti kako bi Vaš centar napredovao. Ispod imate YouTube filmić da vidite kako se to igra. Ja sam završila igru. Vidi OVDJE.
Ovdje su moji profili na i
Interakcija = ; Micanje ekrana =

Build and manage shopping malls in various locations around the world. Have you got what it takes to build the ultimate shop empire?
Date added: July 16, 2012.